GUIDELINES FOR THE ONLINE FACULTY EVALUATION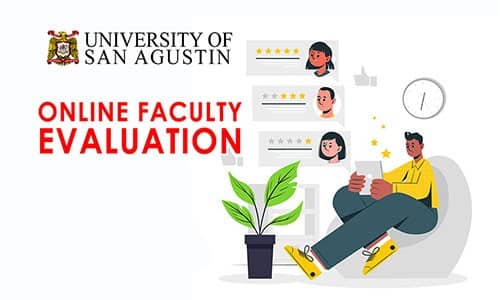 Login your USA email address in http://mail.usa.edu.ph/ to fill out the form.

Forgot Password? Click here USA Email Reset Password

Select your current class section for this semester.
The student should accomplish the Online Faculty Evaluation from June 1, 2021 to June 26, 2021.
Important Reminders during the Faculty Evaluation
Faculty Evaluation Rating: Rating Scale will range from 1 (Seldom) to 4 (Always).

Faculty Evaluation is a requirement for the student's enrollment during the next semester.

Students are advised to check the NEO LMS for subjects/courses/classes with corresponding class names and professors to confirm whether he/she is officially enrolled in the said subject/course/class during the 1st cycle; otherwise, he/she should not evaluate the professor for that subject. 

Students must follow the proper format of the class name and choose the corrected class section for the current semester. 

If the student has four(4) enrolled subjects for the 1st cycle, he/she must accomplish/submit four(4) OFES google forms. 

January 15, 2021 unless there is a valid reason for failure to comply during the schedule; a written request with proof of the valid excuse will be required.

Class name format: Section / Course Code – Course Title. If you have problem with your class name, kindly message your subject teacher in NEO LMS. 
            Example: Arch 3B/AR 334 – History of Architecture 
COLLEGE OF LIBERAL ARTS, SCIENCES & EDUCATION
COLLEGE OF HEALTH AND ALLIED MEDICAL PROFESSIONS