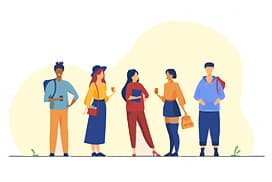 STUDENT AFFAIRS AND WELFARE OFFICE (SAWO)
We believe that our first responsibility is to the students of the the students of the University of San Agustin. In meeting their needs, we must strive to not just satisfy but delight them in everything that we do. Every projects, programs, and events must be of excellence. Thus, we must be the best in our field and make a constant endeavor in knowing and adapting their needs.
  
  We should constantly strive to reduce the financial burdens of the students through reasonable organizational and university fees. We should promptly, accurately, and conveniently serve them in all our undertakings. We must establish successful partnerships with the university administrators, academic personnel, non-academic personnel, suppliers, benefactors, and other stakeholders who contribute to our success by respecting the interests and goals of each sector – who in one way or another share the same motivation of giving superior value and satisfaction to the Augustinian students.
  
  We are also responsible to the student leaders of the university, the men and women who work with us in achieving our goals. Everyone must be considered as an individual. We must respect them and recognize their merit. They must have a sense of security and participation in our decision making process. Incentives must be fare and adequate, working conditions clean, orderly and safe. We must be mindful of ways to help them fulfill their academic responsibilities.
  
  The Augustinian students must feel free to make suggestions and complaints. There must be equal opportunity for development and advancement for those qualified and the disabled. We must provide competent student management, and our actions must be just and ethical.
  
  We are responsible to the university in which we study and work. We must be good students – support good works and charities and bare our fare share of effort, time, and material contributions . We must encourage university improvements, better health, and educational opportunities. We must maintain in good order the property which we are privileged to use.
  
  Income generating activities must make a sound profit so we can initiate more sustainable projects that will assists the helpless and the needy in our university. We must experiment with new ideas. Research must be carried on, innovative programs developed and mistakes paid for.

  New equipment must be purchased, new facilities provided, new systems launched, and reserves must be created to provide for adverse times.
The USA Little Theater (USALT) was established in 1965. It continuously works for the attainments of its vision of being "a world class University Theater that is expressive of the Augustinian cultural and artistic soul,  affirming Filipino identity in a global society" through the conservation of Filipino heritage and innovative dramatic forms through research, instruction and extension.
Vision:
An Association of all bona fide University of San Agustin Grant-in-Aid Scholars that promotes Education, Leadership, and skills relevant to maintain harmonious atmosphere among its members as well as the Augustinian Community, faculty, personnel and students.
Mission:
The University of San Agustin Grant-in-Aid Scholars Association is a pure religious, educational, social, cultural, and non-political Association and commits itself to be:
The representative of the Grant-in-Aid Scholars helping in matters affecting the general welfare of its members.
The medium to stimulate interest of its members in relation to the University's issues and concerns relevant to the members' roles and assigned tasks.
USA Band was established in 1953. One of the core bearers of the artistic prestige in the university. The band is already receiving numerous commendations locally because of its music and creativity.
USA Choir and Troubadours was organized in 1972. The group is the living legacy of the Augustinian commitment to Philippine Culture and Arts. With its conductor and the musical prowess of its members, it will continue to soar high and bring pride to all Augustinian and Ilonggos.
The campus press serves as an instrument of free speech and expression of a student body that embraces the ideals of democracy. Not only does the school paper serve as a medium for self-expression but also as a forum for the discussion of social issues in the local, national, and international spheres affecting the students. Thus, the University recognizes the official student publications: The Augustinian and The Augustinian Mirror, which are recipients of the Gawad Lopez-Jaena Hall of Fame Award bestowed by the Philippine Information Agency (PIA), and the Irong-Irong Literary Journal. All colleges and departments sustain their respective departmental student publications Law Gazette (College of Law), The Artian (College of Liberal Arts Sciences and Education), The Ledger (College of Management and Accountancy), Pharmakeia (College of Pharmacy and Medical Technology), Silabu (College of Nursing), The Tech Record (College of Engineering and Architecture), Pen and Ink (Department of Architecture), the Educator (College of Education), the Junior Augustinian (High School Department) and the Eaglet (Elementary Department).