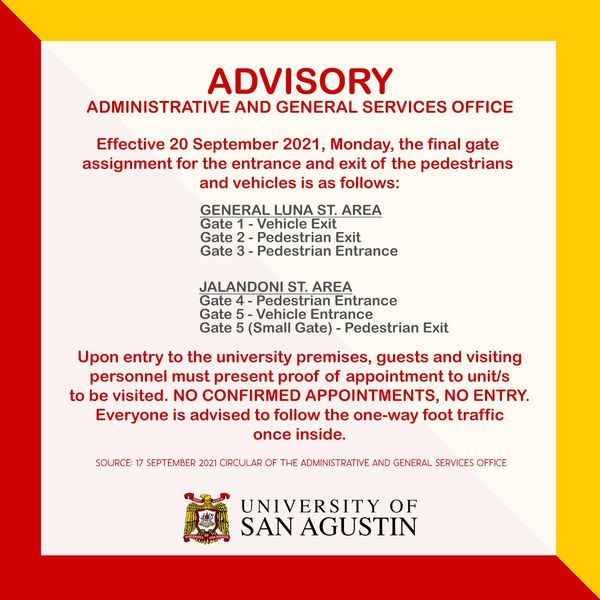 Effective 20 September 2021, Monday, the University will take into effect the following requirements when entering and visiting the University:

1. Guests and visiting personnel will register their appointment to specific unit/s by visiting the USA Website (https://usa.edu.ph/) and clicking the BOOK AN APPOINTMENT field or directly visit this link (https://qrgo.page.link/XDs7S).
2. Visitors to show proof of confirmation to the security guards.
No confirmation from the units means no entry.
[vision id="2″]
On the other hand, the following are the gate assignments:
GENERAL LUNA ST. AREA
Gate 1 – Vehicle Exit
Gate 2 – Pedestrian Exit
Gate 3 – Pedestrian Entrance
JALANDONI ST. AREA
Gate 4 – Pedestrian Entrance
Gate 5 – Vehicle Entrance
Gate 5 (Small Gate) – Pedestrian Exit
Everyone is advised to follow the ONE-WAY FOOT TRAFFIC that will be implemented. This is in response to the need to prevent the transmission of the virus and ensure the health and safety of the personnel, students, and visitors.
For your guidance and cooperation. Thank you!
Source: 15 & 17 September 2021 Circular of the Administrative and General Services Office
#healthandsafety#VivaSanAgustin