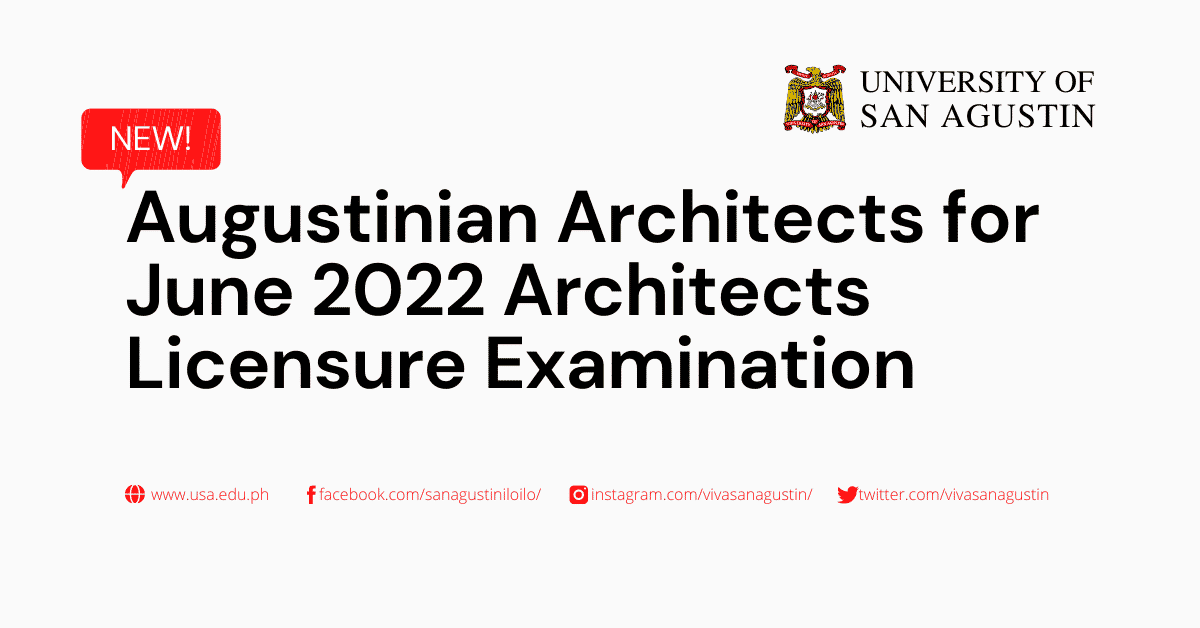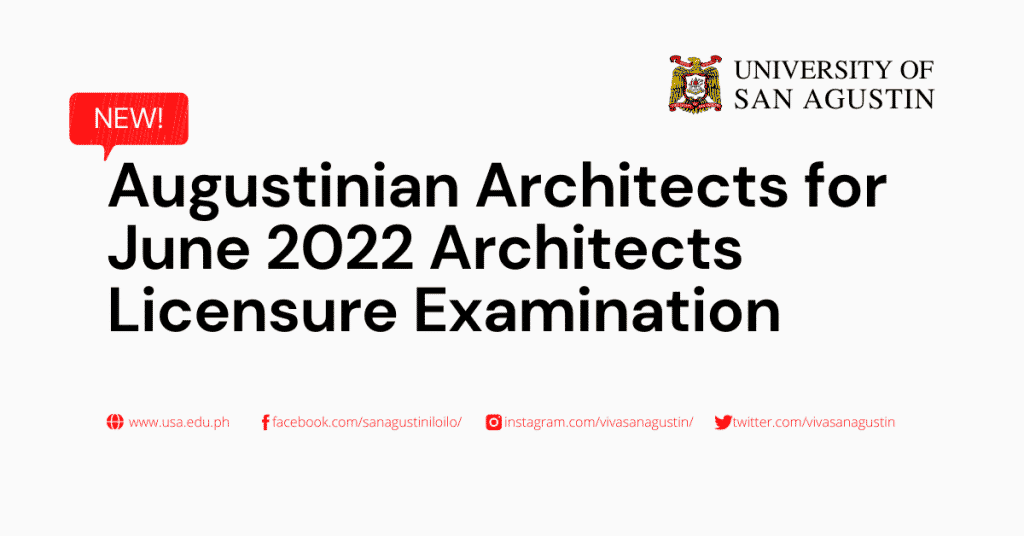 The University of San Agustin congratulates the 48 new Augustinian Architects who successfully passed the June 2022 Architects Licensure Examination.

The recent examination gave the University an overall performance of 49.48%-  39 first timers (59.09%) and 9 repeaters (29.03%).
New Augustinian Architects
ARAÑADOR, ED KEVEN URQUIOLA
BALAN, JOHN ELMER JUNSAY
BAQUERIZA, MICHAEL FERRER
BASMAYOR, JETRHO MADURAMENTE
BATOON, CHITO CEZAR JR PILARTA
BELARIO, CARREN JOY CALINAO
BULAN, ANGEL KATE DELFIN
CALIPES, RONNEL JALECO
CAMPANIEL, PAUL JOETER BAQUILAR
CATALUNA, JOANNA FAYE POLINES
DELA CRUZ, THEA MARIE VILLAVERT
DIDULO, JANN DOVEN DIAZ
DOBLADO, ISIS ALEGADA
ESCARILLA, BJ BAYANI
ESCRUPULO, AIRAH MONTAÑEZ
ESPERANCILLA, JANN MARTINE DEVEZA
FRIAS, JOHN PETER NERON
GALLEGO, EARL ADRIAN GALLANO
GOMEZ, SIDNEY JAEMARIE ARMADA
GUINTIBANO, ARIANE SUMAGUIO
LADIAO, KATHLEEN RUTH AGANA
LAURON, STARLEN SAMSON
LOPEZ, FAYE JUNCEL BARDINAS
MA-ANG, JOSEPH BRYAN ABIAN
MAGAPAN, PAUL JOSEPH DOCTORA
MANA-AY, GIL JOHN JUSTALERO
MEDRANO, JERENE PASCUAL
MENA, ESTHER AMMY JUDILLA
MIOTEN, PAOLO YASAY
MONTECLARO, KEITH JOSEPH TRIBUNAL
MUYCO, GERARD RYAN DEGOMA
OLANDRES, LYRA MAE SUMUGAT
PACLIBAR, EDIMAR GANCIA
PARCON, DAISY JEAN AUSTRIA
PELINGON, JESSELLE POLINES
PEÑAS, REZEL JOY SABISOL
QUANICO, LINDCE ESTRELLA
RAMOS, CHRISELLE JOANE AMACIO
ROTE, WYNDELYN MOQUETE
SABADO, KRISTIANA MAE
SEPE, NICOLEI LUMACAD
SUMALDE, GLENARD SIRILAN
TACARDON, SHENNA MAE MILLONES
TEODOSIO, FRANCES NICOLE PUDA
TULIO, LEVI SALAFRANIA
VILLAREAL, MILROSE ANN DE LA TORRE
YANOC, GHAVIELLE RON MARCELO
YOUNG, NEIL VINCENT ERIBAL
Congratulations also to the mentors, parents, and friends who journeyed with them in this academic feat.