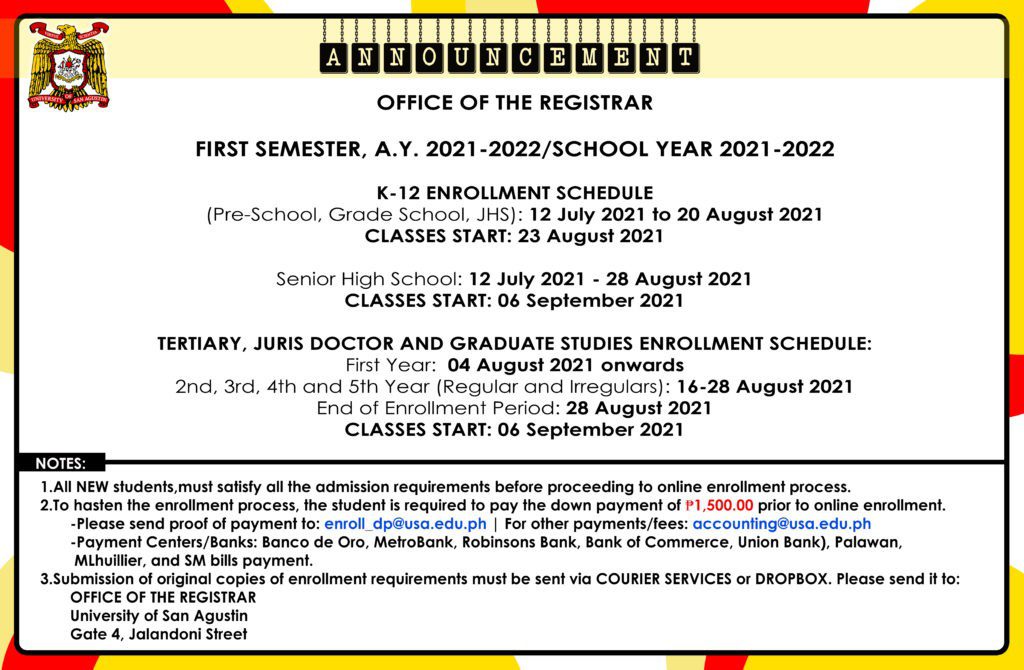 K-12 ENROLLMENT SCHEDULE
(Pre-School, Grade School, JHS): 12 July 2021 to 20 August 2021
CLASSES START: 23 August 2021
Senior High School: 12 July 2021 – 28 August 2021
CLASSES START: 06 September 2021
TERTIARY, JURIS DOCTOR AND GRADUATE STUDIES ENROLLMENT SCHEDULE:
First Year: 04 August 2021 onwards
2nd, 3rd, 4th and Sth Year (Regular and Irregulars): 16-28 August 2021
End of Enrollment Period: 28 August 2021
CLASSES START: 06 September 2021
NOTES:
1.All NEW students, must satisfy all the admission requirements before proceeding to online enrollment process.
2.To hasten the enrollment process, the student is required to pay the down payment of ? 1,500.00 prior to online enrollment.
-Please send proof of payment to: enroll_dp@usa.edu.ph | For other payments/fees: accounting@usa.edu.ph
-Payment Centers/Banks: Banco de Oro, MetroBank, Robinsons Bank, Bank of Commerce, Union Bank), Palawan,
MLhuillier, and SM bills payment.
3.Submission of original copies of enrollment requirements must be sent via COURIER SERVICES or DROPBOX. Please send it to:
OFFICE OF THE REGISTRAR
University of San Agustin
Gate 4, Jalandoni Street