Iloilo City, October 28, 2021 – The University of San Agustin reopened the campus to student interns for its first day of face-to-face classes last October 25, 2021.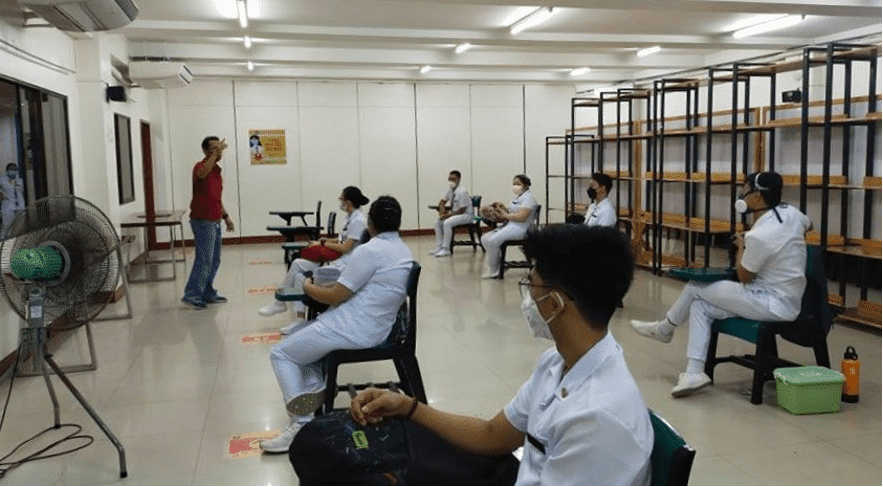 Thirty-eight (38) students from the Medical Laboratory Science (MLS) program of the College of Health and Allied Medical Professions (CHAMP) are the first batch to have their internship performed through the guidance of their professors inside their laboratories.
In compliance with the CHED-DOH JMC No.2021-001, the policies and protocols identified were closely followed from the entry of the students, during instruction hours, and exit from the campus.
All clinical instructors secured a fit-to-work clearance from the Medical Clinic while the students submitted results of their RT-PCR to their MLS Internship Coordinator, had their attendance checked, and presented the Declaration of Health Status at the Information Area.
An orientation was given to remind the MLS Interns of their responsibilities, obligations, and adherence to the Health and Safety protocol of the University.
Donning their complete PPE attire, the first batch of students undergoing the face-to-face is slowly integrating in the physical instruction of their lessons while other batches of students are undertaking their virtual internship as lectures are presented by their respective clinical instructors.
The first day of the face-to-face classes of the MLS Interns went smoothly. They were dismissed after attendance rechecked, directed to the doffing area for degermining, and prepared to depart their respective homes.
The day ended with the Sanitation Team disinfecting the USA Clinical Laboratory and the MedTech Laboratory.
Mr. Joe Perez, the Academic Supervisor of the MLS Program, incessantly collaborates with the support units in the university to make sure that compliance to the CHED-DOH JMC 2021-001 will always be in place. Recommendations from faculty members, parents, and other stakeholders are always considered to safeguard the quality of instruction.
Fr. Frederick Comendador, OSA, the University President, hopes that when more programs are allowed to hold face-to-face classes in the future, the preparations and implementation of the requirements done by the medical programs will be emulated ensuring quality education and a safe place to its stakeholders.