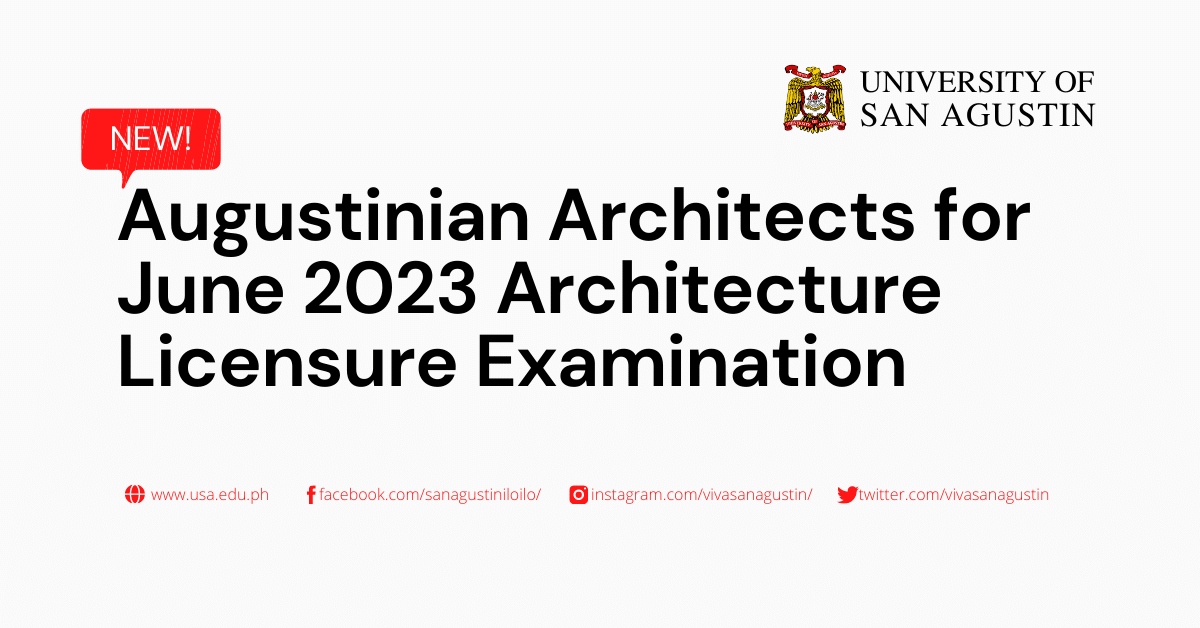 Congratulations to the 61 new Augustinian Architects who passed the June 2023 Licensure Examination for Architects!
First Timers = 47/71 (66.20%)
Overall Performance = 61/110 (55.45%)
List of Passers:
Abello, Allana Michelle Morcilla
Almira, Kristine Villarbada
Anape, Bernard Gregori
Aquino, Leca Marie Buhayan
Autajay, Faye Marielle Gabrido
Badiango, Bon Jorte Loot
Bartolo, Joanna Paula Panes
Bautista, Kade Dolfo
Beray, Jan Antoinne Frange
Bermejo, Camille Ferrer
Boniba, Jean Durban
Cabañal, Ramcez Reignvert Reyes
Caldera, Emmanuel Mondejar
De Asis, Lynden Jie Delgado
Deanon, Regine Diamante
Defensor, Janna Jae Villaruz
Delijo, Belgium Sadsad
Denila, Leandro Martin Mercado
Diaz, Romari Charlz Fabela
Dichoso, Jane Selguera
Ebreo, Ian John Crispino
Echalar, Marra Bernadette Suganob
Elambayo, Joshua Aguayon
Frias, Caren Jean Carpio
Gardose, Vivien Carmeli Cabado
Gelito, Janine Aira Delos Santos
Gomez, Shaine Claris Regalado
Guanco, Anna Virginia
Hapin, Mailah Kaye Reyes
Jaena, Alex-Ross Sebastian
Jolito Ma. Issa Bautista
Lao, Carrie Danielle Gemora
Liza, Glovel Jones Cumalegre
Lusaya, Sean Lloyd Noel Herminado
Lut, Neil Arby John Camacho
Martinez, Romel Ryan Dagumanpan
Mirar, Jay Diloyudin
Molomolo, Annie Rose Solivio
Oducado, Kaira Claire Capapas
Ong, Paul Jansen Aguilar
Pagaduan, Ma. Lei Veronica Daradar
Patiño, Rene John Seguera
Perales, Jonah Mae Macarimbang
Petalgo, Christian Jude Gayonoche
Recodo, John Matt Castillanes
Remotin, Demi Camille Magnifico
Sarabia, Peter John Selerio
Sebelleno, Frits Albie Navarro
Silla, Cloe Dianne Domopoy
Solatorio, Henry Vincent Sina-On
Sumogat, Maricar Espinosa
Superio, Mark Jhon Abogada
Tamaño, Angeli Vinze Gayares
Tamon, Karen Joy Pagunsan
Tan, Clarisse Goson Juan Hong
Tio, Glenallie Nikki Resbo
Togoto, Mercury Peralta
Volivar, Jeianne Clare Bardenas
Young, Alfred Jude Valenzuela
Ysulat, Cara Kuen Rele
Zaldivar, Melvin Calanda
We are proud of you!
#VivaSanAgustin