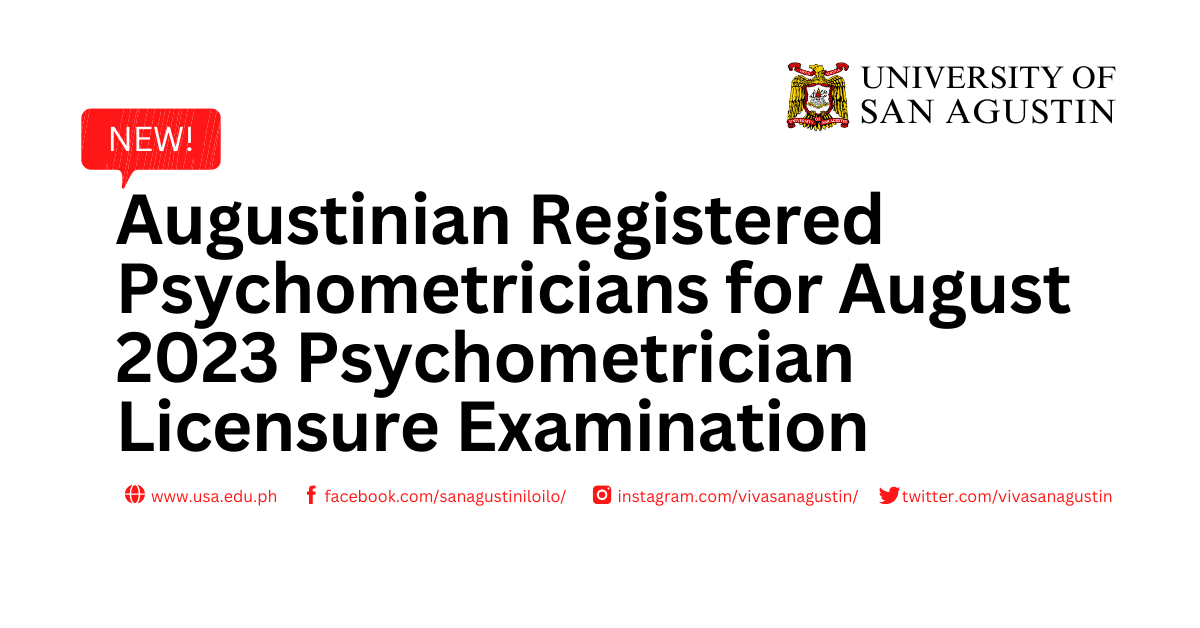 Congratulations to the 48 new Augustinian Registered Psychometricians who passed the August 2023 Psychometrician Board Examination.
First-time takers: 48/56 
Rating and Overall Performance: 85.71%
Adriano, Krisha Angela
Alabado, Nicole Alicia
Alcid, Samantha Rose
Alvarez, Monthizza
Apiado, Joede Sydrec
Baquiano, Sven Francis
Benitez, Nelmar Jan
Bretaña, Dave
Cabalse, Razel
Calceña, Jerica
Cardo, Mary Joy
Cawa, Reyner
Celoso, Mary Amabelle
Cortez, Johanna
Dela Torre, Diana Kate
Della, Johnica
Deslate, Dwight
Diaz, Ma. Samantha Monette
Duremdes, Stephen John
Espinosa, Geraldine
Estandarte, Thea Camille
Fundales Enid
Germanelo, Deau
Isubal, Maria Alyssa
Joting, Natasha
Juanito, Kristin Angelou
Lamatao, Mark Laurence
Larupay, Aubrey
Magallanes, Ken
Malaki, Kristine Claire
Montaño, Kathlyn Therese
Nalagon, Bea Mylene
Pajemolin, Mary Elizabeth
Panes, Frances Isabelle
Panes, Pamela Rose
Quintar, Ma. Judiel
Rosales, Lloyd
Salas, Lecille
Saquilayan, Rachel Marion
Soguilon, Kobe
Tamesis, Samatha
Tingzon, Denisse
Valencia, Scarlett
Vasquez, Nichole Jane
Velez, Rosemarie
Vencer, Micah Angela
Vipinosa, Kimberly Anne
Yerro, Bresheil Eunelle
We are proud of you!
#VivaSanAgustin