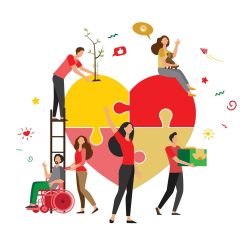 Social Advocacy and Community Engagement Office (SACEO)
The Education Act of 1982 (BP 232) instructs higher education in the Philippines to fulfill a developmental role in society, a task fulfilled through the university key function – instruction, research and extension.  In the University of San Agustin, extension is done through the Social Advocacy and Community Engagement Office (SACEO), known to be called TILIPUNAN. 
Tilipunan is a Hiligaynon term which literally means "a gathering place". To the Augustinians, the term refers to a venue to share with others and serve with love; an avenue for giving freely one's talents, expertise and resources; an opportunity to make a difference in the lives of others; and an affirmation of the belief that development is the concern of all.
The TILIPUNAN serves as a venue where faculty, students, non-academic personnel, and university friar-administrators share their expertise and resources with the non-academic community towards community-building. All efforts in the delivery of extension activities are guided by the University motto – vitus et scientia.
TILIPUNAN COMMUNITY
EXTENSION DEVELOPMENT PROGRAM
The TILIPUNAN Extension Development Program encompasses outreach activities designed to cater to both community partners and the University. Its programs are aligned to the University's advocacies and is two-fold: the Tilipunan Community Development Program (TCDP) and the Agustino Para Sa Tao Development Program (APSTDP).
THE TILIPUNAN DEVELOPMENT PROGRAM
The Tilipunan Community Development Program (TCDP) is designed to reflect the university's mission and vision to promote authentic human and societal development through programs that contribute to the welfare of the communities that it serves. Further, it aims to contribute with the attainment of the Sustainable Development Goals and the Philippine Development Plan.