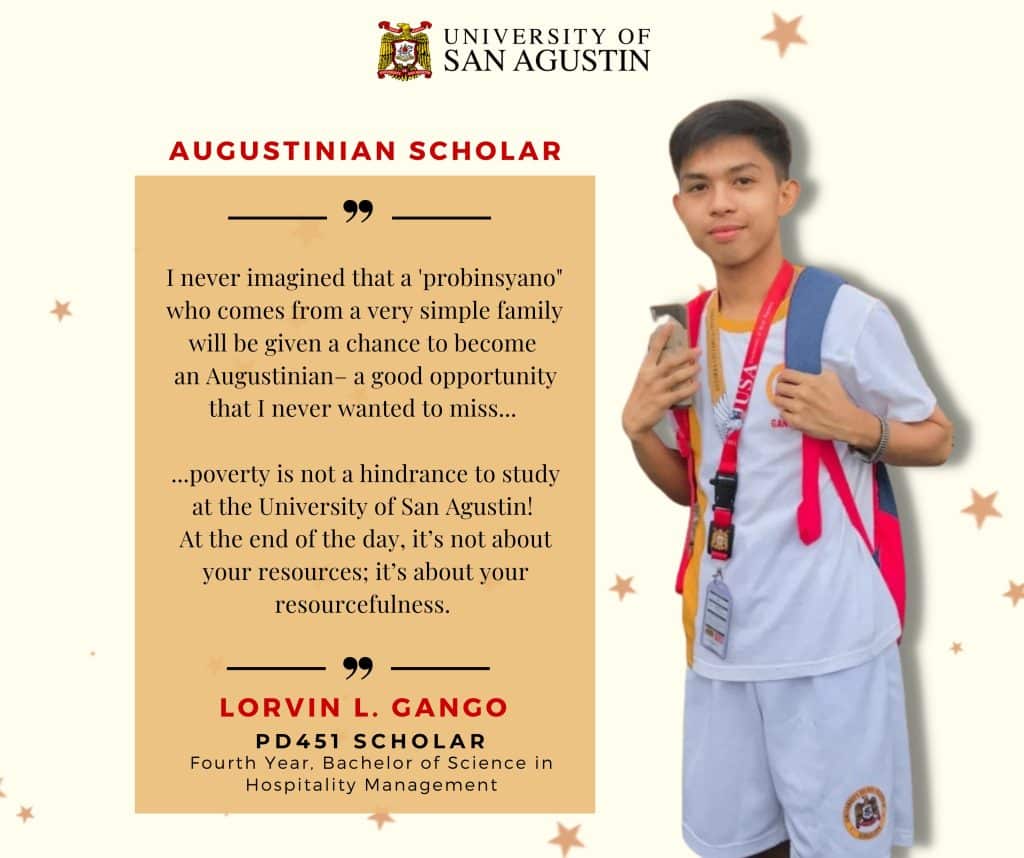 "I cannot afford to study at University of San Agustin," a common notion that many people share. While most of the students here belong to wealthy families, I consider myself more than blessed to be part of one of the prestigious institutions in Iloilo City. I never imagined that a "probinsyano" who comes from a very simple family will be given a chance to become an Augustinian– a good opportunity that I never wanted to miss.
I am Lorvin L. Gango, a 4th-Year student from the College of Commerce taking Bachelor of Science in Hospitality Management (BS HM).
While scrolling online, I found the details about the offered PD451 scholarship, tried my luck to apply, and with God's grace, got the chance to process it. There was, however, an instance when I almost didn't qualify but the University helped me in processing and granting this scholarship. That is why my heart is ever grateful to San Agustin because honestly, my family cannot afford to enroll me in this University.
This inspired me to strive hard for excellence. I also couldn't have gone this far without the unending support of my sister and my loving parents, and most especially God's unfailing love and grace.
With this, I realized that no matter where you are from and no matter what your life status is, the University of San Agustin will always open its door for you.
Truly, poverty is not a hindrance to study at the University of San Agustin! At the end of the day, it's not about your resources; it's about your resourcefulness.
Share your #SanAg story, be an inspiration!
For scholarship offerings, contact the Admissions, Scholarships and Placement Office:
0928-248-3834
aspo@usa.edu.ph
#AugustinianScholar
#VivaSanAgustin