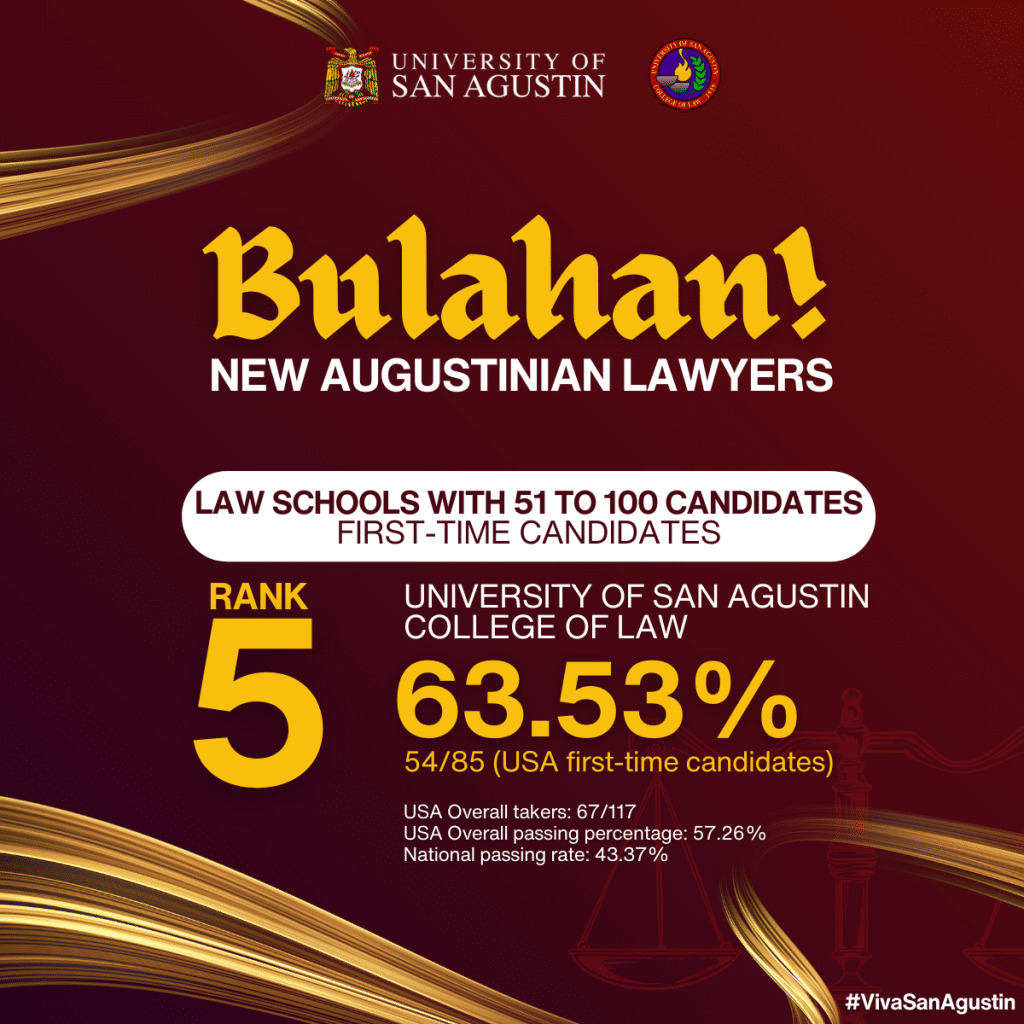 Congratulations to the 67 new Augustinian lawyers who passed the 2022 Bar Examination (both first-takers and retakers).
List of Passers:
AJESTA, FREDRIC LEAN V.
ALBA, MARIA IGNACIA A.
AM, LESLIE F.
APORTADERA, KIRSTEN ABNER T.
ARCENAS, FAITH BEATRIX T.
BARCELONA, EMMANUEL T.
BASTARECHE, RHETT ALVIN S.
BATAGA, SHAIRA C.
BELLEZA, NOEL CHRISTOPHER G.
CAJANDIG, MARY MONIQUE H.
CALIMOSO, LYNDON F.
CALIMPONG, JEWENYL ELAIZA B.
CATALUÑA, CHARLES ANGELO L.
CATEDRAL, ROGER A.
CENTINA, NELLE JUNE C.
CHAVEZ, THEO JAVRIEL S.
COLLANTES, ANTONIE C.
CUSTODIO, HUDSON JR. C.
DABALUS, PRECIOSE ANNA M.
DEL ROSARIO, DOMINIQUE T.
DIANA, EMMALENE DELA C.
ESPINOSA, LOUIS GABRIEL A.
ESTOLANO, JULIUS B.
FABILA, NOZEL CHRISTY A.
FIGUEROA, SANJAY VON B.
FIRMEZA, MARY LOURAINE U.
FUENTES, JOHN DEXTER A.
GALLARDO, JERIC DAVE S.
GASPAR, JOEBELLY B.
GAUTIER, MYRA GENE G.
GONGOB, CLOWIE ANGELICA B.
GORANTES, NIEVA APUNDAR
GUILLERGAN, ANDREA S.
LARIDE, WILLIAM A.
LENAMING, JOEL A.
MAGNO, SHIELA A.
MANAGAYTAY, MARY ANTHONETTE P.
MIRANDA, JAZER P.
NOBLE, NOVI MARI F.
NOBLEZADA, JAYBEE JOHN O.
OGATIS, KURT NICOLO E.
PACIFICAR, MARK NONETTE P.
PACLAUNA, KIMBERLY J.
PAGTANAC, JAN MARTIN V.
PANO, KIA MARIE E.
PARCE, ANDREA NICOLE C.
PARCE, MARCO EMILIO B.
PEREZ, JYLE T.
PRIMALION, GENESIS B.
PUNGOT, JOHN MAR B.
RACO, JOVYJANE D.
REGALADO, MARIANNE M.
RUZGAL, JANNAH ISABEL R.
SISON, JOHN WINSTON T.
SOLACITO, ALEXIS D.
STA. ANA, SANDRA RUTH A.
SUABERON, JOHN PAUL S.
TABOBO, JESSIE T.
TAPALES, IRISH JOI S.
TIANERO, FRANCIS LEO J.
TOBONGBANUA, BEATRIZ F.
TONOGBANUA, CALEB O.
VARON, JOEFRITZ A.
VELASCO, JON PAOLO P.
VILLANUEVA, HEDA MARIE P.
VILLARIAS, FATIMA JANE C.
ZALDIVAR, CHRISTINE A.
The University of San Agustin ranks 5 among law schools with at least 51 first-time examinees making it the top law school in Western Visayas.
National Passing Percentage 3,992/9,183 (43.37%)
USA First-Time Candidates 54/85 (63.53%) 5th Best Performing Law School
Passing Percentage (for law schools with 51-100 candidates)
USA Overall Passing Percentage 67/117 (57.26%)
Congratulations to the dean, academic personnel, family and friends!
Bulahan!
#VivaSanAgustin