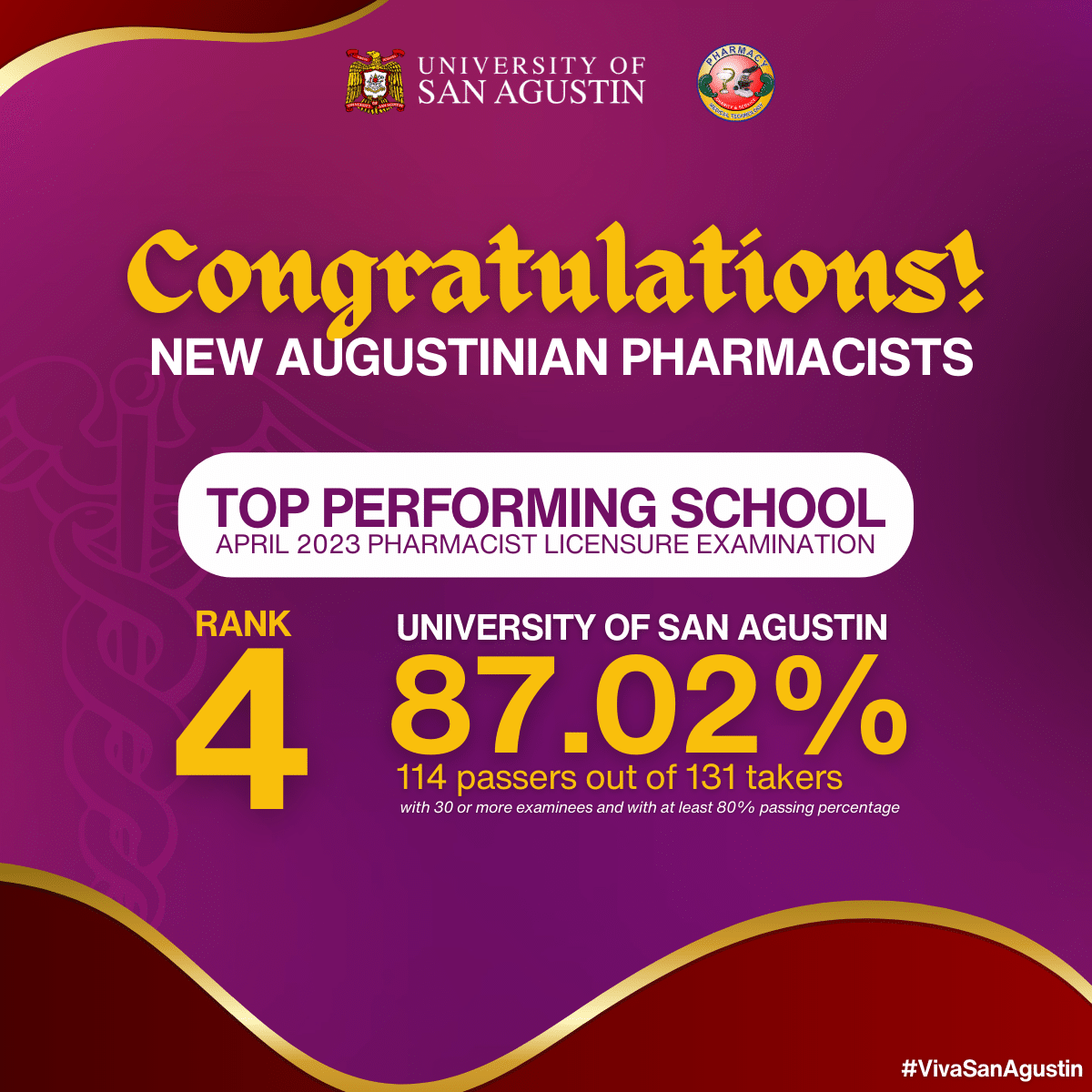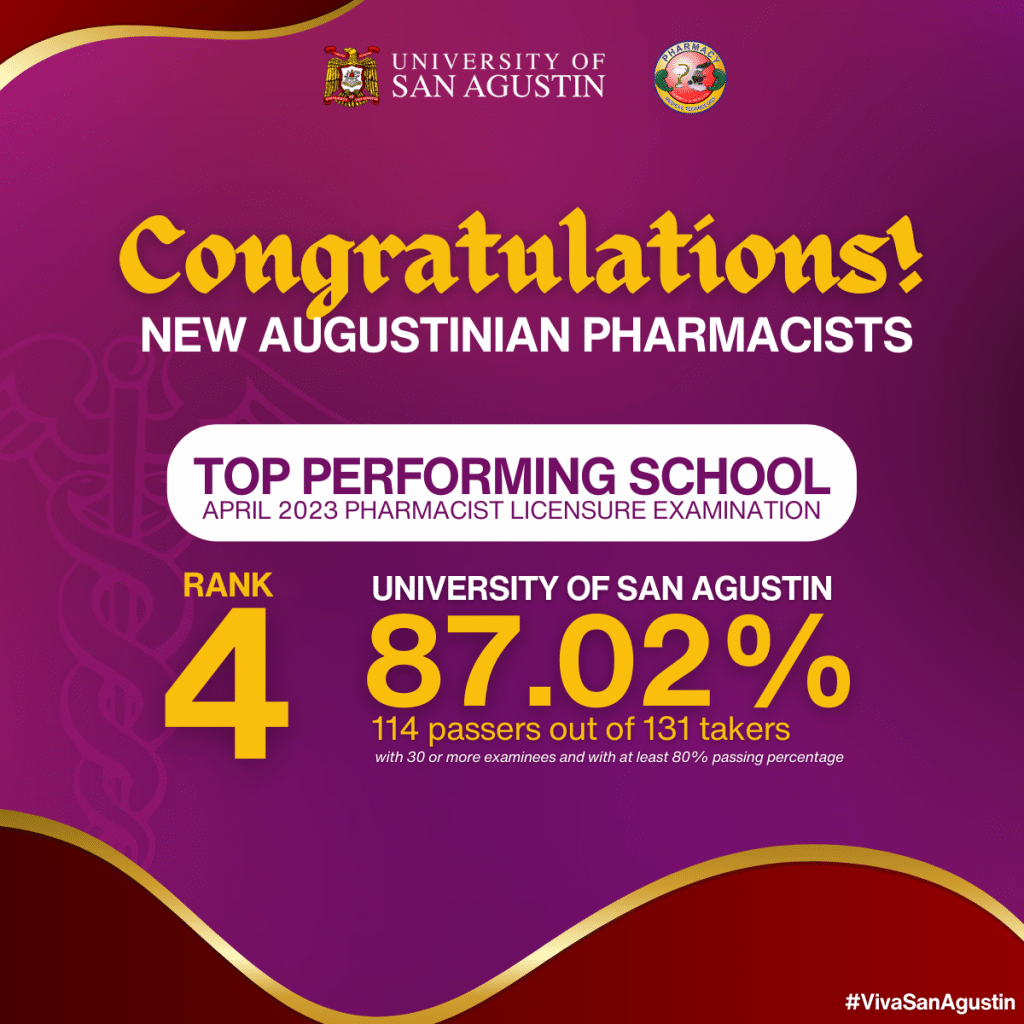 Following the College of Law's rank 5 performance in the 2022 Bar Examination, the College of Pharmacy and Medical Technology ranks 4 in the April 2023 Pharmacist Licensure Examination with 87.02% overall rating making it the Top Performing Pharmacy School in the Visayas.
Congratulations to the 114 new Augustinian Pharmacists! We are proud of you!
List of Passers:
ADRID, MARRIELLA KHRYSTINE DURAN
AGUIRRE, AHLVA MAE LOQUINARIO
ALBACETE, ANRILYN PAGAYON
ALCAYAGA, CASSEY AMORES
ANCUNA, LIAN KRYSTEL AYOSO
ARANETA, LADY AIRISH TALITA
ARBATIN, ALIZA MAE VISTA
AUSMOLO, IRENE MAE SALCEDO
AYUYON, BRYAN ARAÑO
BALAJADIA, ELYROSE JALANDONI
BALDOZA, HERNIE MARIE SURMIEDA
BALEÑA, JOHN EDDREX DALIDA
BALLENER, KEAN MAE ALANAN
BARRIOS, MARK JAPHET GUIBAN
BERMUDO, JAMAICA MAE BANDADA
BETITO, GERARD JOSH DOFITAS
BLANCO, FRANCES MAE BACELONIA
BOLIVAR, THEA MONIQUE TARRANZA
BUÑI, KARLYNE MARIE ALPASAN
BUÑI, MONICA ANN GARDUQUE
BUSTON, THERESA EREZO
CABALLES, BIENROSE JIMEE GEQUILAPO
CALSEÑA, MARY JOSIE ORTIGOSA
CAMBEL, SHANE PAUL OLEA
CATAMIN, DECEE DAWN LUMAUAG
CATEDRILLA, FLORENCE INTONG
CEBRETAS, LUCILLE JANE MORALIDAD
CIRIACO, ALYSSA LORRAINE DIVINAGRACIA
CORDA, ODETTE AURA TONSAY
DALIVA, RACHEL FAITH BARRIOS
DAVILA, HANNAH ROSE FABRIGAR
DE LA CRUZ, NIKKI MARIE ANSINO
DEANON, REA KAYE GUERRERO
DEFIESTA, MOIRA JULIN ITURRALDE
DEMAFELIS, STEFFI JOY BAPIAL
DIANA, LOVELY ANNE TORRATO
DIANCO, DANICA JOY
DUMAICOS, GEDALIAH ZORRA
DUREMDES, GLIMPSE BALING
DY, ALFRED VINCENT GRATE
DYSUANGCO, KRISTOPHER REY BACHOCO
ENCIO, JOVY LOVE QUILINO
ESCAÑO, KAIZZE-AN GENEFRA BACTOL
ESLER, RUBENY JADE NAVARRO
ESPALTERO, RODEL JOHN BABIA
ESTUDILLO, CHESKA FAITH ARRIOLA
FERNANDO, JOANNE MARIE BAYER U
FUENTES, GRACIELA DEANNE ALEGROSO
GABALES, ANN JELLA MARTIR
GALAM, LOUISE BEATRICE ABAN
GANCERO, RAMIE ROSE ANN AGUILAR
GANEA, HANIE JOY GEDALANGA
GIMOTEA, HELENA MAE RODRIGUEZ
GONZAGA, SHIERA MARIE PRIAS
GONZALODO, JESHNA MARIE TAÑO
HORTELANO, DARREN JOY MONREAL
ILISAN, MARIEL LAMZON
JAMERLAN, ABBY JOY CELIZ
JIMENA, LORD IRVIN LEBRILLA
JUADA, PRIMROSE MAE TONSAY
JUSTO, CHRISTINE KENEDY NATALIO
LACSON, KAREN JOY TOLEDO
LEDA, CHRISTENE JOY ALLANIC
LEDESMA, NIÑA ARVIANNE GENSAYA
LUTERO, PEARL JOY NAVARRA
MALONES, MA. FAITH REMETIO
MAMON, SHANE FRANCES GUTIERREZ
MARCOS, VINA MARIE ROGAN
MASBAÑO, NIMROD LORENZ CARMEN
MONTAÑA, KYLA ISABEL VELOSO
MONTAÑO, JADE THERESE ESPINA
MORENO, ARNIE GRACE QUIRAO
MOVILLON, FRANCES CANDELARIA NEPUCPAN
MUCHO, CLAUDETTE LORRAINE AYALA
NABOR, LINSHE KATE BAUTISTA
NACIONALES, JOSHUA NAVARRA
NAPALINGA, NINA RICCI SENANIN
OMAGAP, JEREMY CERALBO
ORDANEL, KYLAH CORPUZ
OSANO, KRYSTAL KELLY SHAYE ALOJEPAN
PAGUNTALAN, RICHARD JOSEPH ESMEJARDA
PALOMO, KRYSTAL DAWN SIDANA
PALOMO, LF JANE CASTILLO
PAMA, MARIEMIL ROSE TRESPESES
PAMPAG, CRYZTYL JOY DAPITON
PANGCOG, JENLY THERESE OLWEN JANEO
PANIQUE, JOSE ALFONSO CACHILA
PATRICIO, AVA JEMIMA DELA CRUZ
PELINGON, JAZETTE BUHAYAN
PENUELA, YESSAMAE LACERNA
PIAMONTE, MARY THERESE LAVENTE
PIOJO, MARYDEL FLORENTINO
PLACENTE, MARY GRACE SOLIS
PRADO, MAE JOLLANE GRACE QUEMA
SALADO, CHRIZZYA MARRIE ABANGAN
SAN FELIX, GARNET HANS ESTIMADA
SEGURA, KATHLEEN ROSE OLIVARES
SEPULVIDA, MA. LUNA BURIEL
SIMORA, CHLOE FAITH PADILLO
SIOZAN, JEZHREL ZYHNDY CLARITO
SOBREMISANA, JANISSA MAE MENDOZA
SOLIMAN, CLARISSA FAYE MONCAYO
SUBIGCA, RESMARC FERRER
SUMUGAT, AUGUSTUS CEAZAR CORTEJO
TA-AY, NICOLE DOMINIQUE TABARES
TABUENA, KAREN KAYE MAGPUSAO
TAGOMATA, DIONA MARIE AHUMADA
TAMAYOR, DIONISSE MAUREEN DE LA CRUZ
TEDIOS, SHEENA MARIE VILLANUEVA
TELIC, DANIEL JEFF CARPIO
TONO, DAISY JINE SAMONTE
TUGNAO, VINCENT KIERK VICENTE
VAGILIDAD, LEAH MAE BUTIONG
VILLALOBOS, GABRIELLE LOUISE DISTOR
First-time takers: 105/116
Rating: 90.52%
Retakers: 9/15
Rating: 60.00%
Overall Passing rate: 87.02%
Congratulations also to the dean, faculty and personnel, family and friends of the College.
We are proud of you!
#VivaSanAgustin